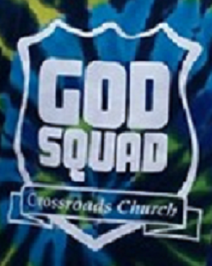 Fall Kick-off For God Squad and Youth Groups on Wednesday, September 20 at 6 pm.​
God Squad kids and their families will have a meal, followed by songs, games and registration.
Bring your kiddos, grandkids, neighbors and friends!
There are invitation postcards on the missions table--please take one or several!

---
Crossroads God Squad is an exciting ministry of Crossroads Church specifically designed to partner with parents in teaching and encouraging kids, age 4 through 5th grade, to grow spiritually. It is our desire to help every child know God personally through His Son, Jesus Christ, and then live lives that honor God, show respect and love to others, and impact our community with Jesus. We strive to do this through relevant, Bible-centered, and entertaining curriculum from Kid-Mo ministries (
http://www.kidmo.com/
), as well as with fun games, yummy snacks, creative crafts and exciting special events!
God Squad meets during the school year on Wednesday evenings from 6 pm to 7:45 pm at Crossroads Church. We follow the Chippewa Falls School district calendar for determining our vacation breaks, as well as any weather cancellations that occur. Check out our calendar to see when our special events are, as well as our weekly themes! Be sure to check out our Facebook page (Crossroads God Squad) to see each week's memory verse, the latest photos, event reminders, weather cancellations and more!
Contact Heather Wojtczak at
hwojtczak@hotmail.com
if you have any questions, or if you'd like to help out by volunteering in an area of this vital ministry.